Event Registration
"Technology, Cyber and the Future of Insurance"
When
Wednesday, November 13, 2019
Registration Time:11:30 A.M.
Adjourn Time:7:00 P.M.

---
Cost
No cost for students
---
This event has already past. You will no longer be able to RSVPs for this event.
---
Venue
The Proud Bird
11022 Aviation Blvd.
Los Angeles, CA 90045


Guest Speaker(s):
Rob Galbraith, The Most Interesting Man in Insurance
, The End of Insurance as We Know It
Brent Sims, DigiStream Investigations
, Investigations in the Age of Geosocial Data
Luis Marquez, DigiStream Investigations
, Investigations in the Age of Geosocial Data
Paula Miller, Marsh
, CA Consumer Privacy Act & Biometric Information Privacy Act
John Morrow, FM Global
, Understanding Cyber as an Insurance Hazard
Event Details:
Technology, Cyber and the Future of Insurance:
11:30 a.m. Registration
12:00 Noon Buffet Lunch
Session 1 - 12:30 p.m.-1:45 p.m.
Session 2 - 2:00 p.m. - 3:00 p.m.
Break 3:00 p.m. - 3:30 p.m.
Session 3 - 3:30 p.m. - 4:30 p.m.
Session 4 - 4:45 p.m. - 5:45 p.m.
Networking Happy Hour - 5:45 p.m. - 7:00 p.m.
LA RIMS is offering a 6 foot display table to our 2019 sponsors! Includes 2 complimentary registrations! Email larimschapter@larims.org to reserve your table today!
Be one of the first 100 registrants and receive a free autographed book by the most interesting man in insurance.
Here are some of the sponsors who will have display tables:
ATI
Belfor
FM Global
Harbro
Kegel, Tobin & Truce, A.P.C.
Lein on Me
LFLM
Paul Davis
Willis
Sessions:
---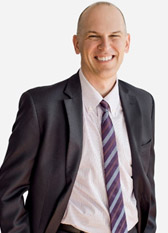 Rob Galbraith, The Most Interesting Man in Insurance
The End of Insurance as We Know It
Session #1 12:30 PM - 1:45 PM
Rob Galbraith is the Director of Innovation at AF Group and the author of the Amazon bestseller The End Of Insurance As We Know It. He has been called "a global insurtech thought leader", "a mentor to many in the insurance industry", "the most interesting man in insurance", "the prophet" and "the WD40 of insurance" for his versatile skills and ability to solve all manners of problems. Rob is a popular keynote speaker who has spoken at events around the globe on the topics of innovation, insurtech and the future of insurance.
Rob has over 20 years of experience in the financial services industry in a variety of leadership positions with AF Group, USAA, Citigroup, and the Federal Reserve Board. He is a recognized thought leader on P&C insurance who is a frequent media contributor and well-known industry influencer. Rob holds a Master's of Science in Insurance Management from Boston University and a Bachelor of Arts in Economics from Michigan State University. In addition, he holds the CPCU, CLU, and ChFC professional designation and was previously a member of the CPCU Society Leadership Council from 2016-2018
---
Brent Sims, DigiStream Investigations
Investigations in the Age of Geosocial Data
Session #2 2:00 PM - 3:00 PM
The current growth of social media and geosocial data is changing the face of risk management and investigations. Learn what geosocial data is, and exactly how this type of information is used to investigate insurance claims of all kinds. Understand how to gain eye-opening insight into accidents, site security, workplace harassment, and high exposure incidents, by locating social media photographs, videos and posts at specific locations and times anywhere in the world. This session utilizes real life case examples to demonstrate the impact of this new technology in the realm of risk management, law and insurance.
Brent Sims is the Managing Partner for DigiStream Los Angeles and has been with the company since 2005. Prior to becoming Partner, he served as General Manager of Sales and Operations for two years, as well as Field Operations Manager for two years before that. During his time in both roles, his responsibilities ranged from overseeing the staff of field investigators to managing the sales and operations of the company. Brent has completed over 9,000 hours of both AOE/COE investigations and field surveillance. His hands-on experience has enabled him to navigate and coach investigators through every possible scenario in the field. Prior to DigiStream, Brent attended California State University Sacramento, where he received his Bachelor's degree in Criminal Justice.
---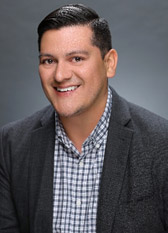 Luis Marquez, DigiStream Investigations
Investigations in the Age of Geosocial Data
Session #2 2:00 PM - 3:00 PM
Luis Marquez is an Investigative Advisor for DigiStream Investigations Los Angeles. Prior to joining DigiStream, Luis previously worked as a workers compensation claims examiner for nearly four years. He holds a Self-Insured Administrator certificate from working on Self Insured Plans. His prior experience working with attorneys and his comprehension of workers compensation claims has enabled him to give sound information on the appropriateness and justifiable reason for surveille and intel investigations. Luis has done training sessions for TPA's and law firms across Southern California. Presentations have included topics on ethics behind investigations, legality of sub-rosa and internet based investigations and emerging trends in investigative resources.
---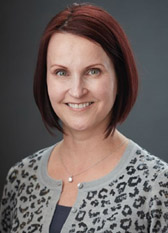 Paula Miller, Marsh
CA Consumer Privacy Act & Biometric Information Privacy Act
Session #3 3:30 PM - 4:30 PM
California's newly enacted privacy law is set to become the most stringent and comprehensive piece of data protection legislation in the US. Although the California Consumer Privacy Act (CCPA) doesn't take effect until January 2020, the bill represents a major development for the privacy rights of US consumers — and for companies that collect, process, or otherwise use their data.
A new paper by Marsh — CCPA: A Paradigm Shift for US Privacy Law — looks at the scope and requirements of the legislation and how it compares with the European Union's General Data Protection Regulation. The briefing also outlines the implications for subject companies and recommends steps that organizations can take now to assess their risk exposures and review and align their insurance coverages.
Paula Miller is the West Region Cyber Growth Leader within Marsh's Financial and Professional (FINPRO) Specialty practice. In this role, Paula provides training and educational support to colleagues in order to develop sales strategies and engages Marsh cyber resources to serve clients and new business opportunities.
Paula joined Marsh in 2018. Prior to Marsh and since 1999, Paula had served as a financial lines broker and client advisor for regional and national brokerage firms in the SF Bay Area. Her experience includes working with companies in the Technology, Retail/Hospitality, Financial Institution, Real Estate, Healthcare and Renewable Energy industries.
As a broker and client advisor in Cyber insurance, Paula has designed and placed customized program solutions for clients through use of manuscript policy forms and endorsements, gap analysis and predictive loss modeling tools.
---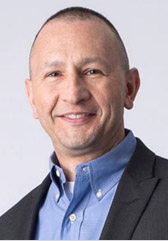 John Morrow, FM Global
Understanding Cyber as an Insurance Hazard
Session #4 4:45 PM - 5:45 PM
This session will explain how modern day cyber is a hazard to organizations from the adversary's perspective. The presenter—an expert in cyber security and cyber loss prevention—will address how the modern cyber threats are organized, the destructive capabilities that exist, and how theft and destruction of property result. The presentation will detail an example of exposure in industrial control systems and how they lead to property destruction and business interruption of a power generation plant. To prevent cyber losses, the session will detail an approach to mitigate the exposure and learn the most common loss prevention techniques to avoid cyber losses and reduce exposure. Finally, attendees will gain insight and approach to managing cyber risk---how to assess the risk and understand the challenges to organizations.
John Morrow is Assistance Vice President, Cyber Consultant for Engineering and Research at FM Global and is based in Western Division's Dallas, TX office. He is responsible for supporting client and operations with assessing and mitigating cyber risk related to physical security, industrial control systems, and information security to improve cyber resilience.
John has 30 years in information technology and worked in multiple industries including financial services, retail, healthcare, real estate, and defense in CIO/SVP/VP level positions. Most recently, John served as the Cyber Security Director for a joint command and completed tours in CISO, CIO, and information security roles within the Department of Defense. He continues his service as an officer in the U.S. NAVY and is an expert in cyber security, information assurance, and industrial control systems.
John holds a bachelor's degree in Information Systems & Technology and a MBA in Management. He holds Certified Information Systems Security Professional (CISSP), Global Industrial Cyber Security Professional (GICSP), Security+CE, and IAT Level II/III, IAM Level I/II/III and CNDSP analyst/infrastructure support/manager Department of Defense security certifications.
---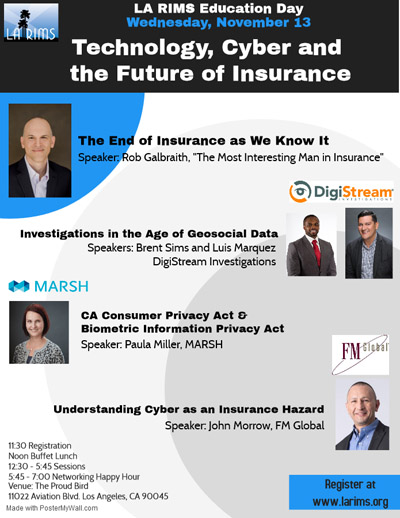 Please call the LA RIMS office at 818.843.2245 with questions